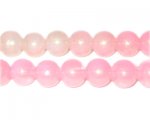 12mm Pink Jade-Style Glass Bead, faded. No Returns!
Testimonial
Thank you
Thursday 17 May, 2018
I am living in the Caribbean and its hard to find beads that are so lovely to add to my collections. Dollar beads is amazing , I have placed serval orders and are very please with their services. I have been going crazy adding supplies to my chart. They are professional and deliver your order in a quickly. Wish they did grab bag.
Testimonial By: Melissa AShton — Brooklyn, NY, United States — Melissaskreation