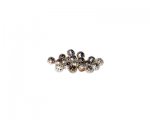 4mm Silver Filigree Metal Beads, tarnished. No Returns!
Testimonial
Quality
Tuesday 15 March, 2011
We have ordered several times now and are amazed at the quality and the speed of delivery of the product! We already made back 10 times in sales what we ordered. It is a great company that we will always use for our products. We give them 5 strings of pearls rating!
Testimonial By: Linda Bock — Colorado Springs, Colorado — L & L Enterprises