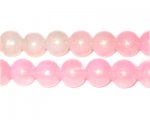 12mm Pink Jade-Style Glass Bead, faded. No Returns!
Testimonial
More than I hoped for!!
Saturday 05 March, 2011
Just recieved my first order. WOW!! I am amazed at the quality and the prices!! I will be ordering again! I did have two single beads that were broke but this is great. Thanks for the fast delivery too!!
Testimonial By: Barbara McLaurin — Ellisville, MS, United States — J and M Jewelry