Approx. 1.5 - 2oz. Soft Color Bead Mix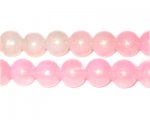 12mm Pink Jade-Style Glass Bead, faded. No Returns!
Testimonial
This place is great!
Monday 07 February, 2011
I just wanted to say I have had a lot of compliments on the items that I
ordered previously. You are definitely well worth your weight in gold.
Thank you for being very reasonable in your prices, yet your quality is
outstanding.
Testimonial By: LaDonna — Greensburg, IN